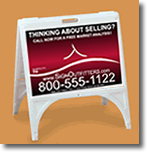 You have your brand. Now you are in need of advertising aids. Think about this product idea, you have a portable a-frame sign.  This a-frame sign has two 24" x 18" inserts that have your full color branding apart of it.  This is what SignOutfitters.com is bringing to help you.
The lightweight portable a-frame sign is made of heavy duty plastic.  There is no rust, no splinters, and no maintenance.  The sign inserts sit in the frame and can be quickly changed out.  The top of the sign has a handle for carrying and weighs approximately 7 lbs.  
These quick signs can be used indoors or outdoors.  Signs can be placed outside on sidewalks to attract foot traffic, or used at a trade show display.  The full color design allows you to keep the concept of your brand.