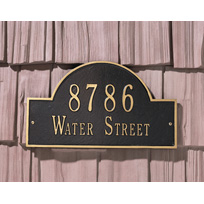 Adding an address plaque to your home will give your home a little extra class.  These die cast aluminum house signs can go with your home, with over 17 color combinations.  Custom to your own home or style.  Many address plaques to choose from.
Address plaques make a nice way to identify your house address.  They are made out of rust free recycled aluminum.  Think about what your guest will feel when they pull up to your house and see the nice address plaque on your house.  They will be happy that your house was easily identifiable, that is for sure.
Handcrafted in the USA, these plaques usually take about two weeks to make and ship out.  Stop by SignOutfitters.com today and pick up yours.