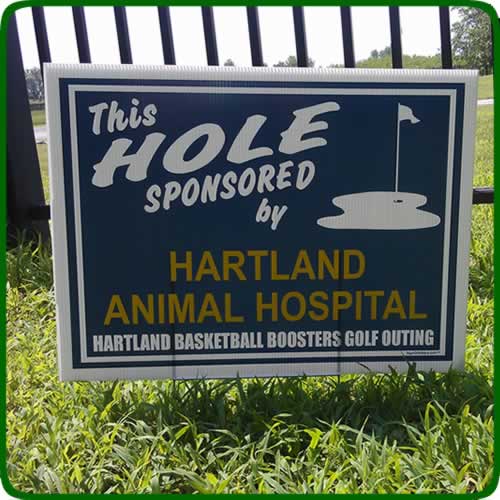 Are you planning a golf outing?  Maybe you are a golf course attendant who hosts many outings. One of the ways to help with the costs of the outing is through sponsors.  As a golf course you may want to recommend sponsorship signs.  These sponsors help donate money to the cause.  SignOutfitters.com has the perfect way of showing off these sponsorship's.
Golf Hole Sponsor signs will show off your sponsor names with a sign that will let the name stand out.  With a 15" sign stake included you can place these sponsor signs at the tee boxes of different holes.  Your golfers will see your sponsor names where ever you place the signs. 
These signs are digitally printed and ship out very fast.  These signs can be customized with your golf outing and the sponsor names laid out easily.  Signs feature This Hole Sponsored by with a clip art of a golf green.  Other golf sign templates can be found here.