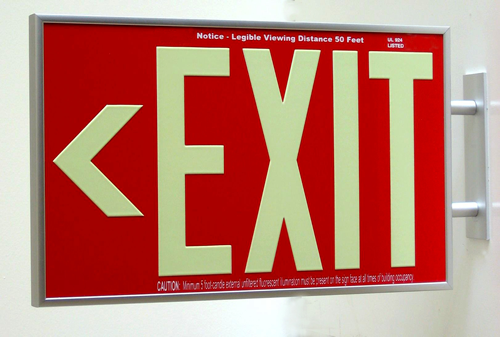 Don't get surprised by the Fire Marshal any longer.  These photoluminescent exit signs have been tested and listed by Underwriters Laboratories, Inc. in accordance with the UL924 Standard for Power and Lighting.  These signs are in compliance with NFPA Life Safety Code 101 and OSHA requirements.  Meets or exceeds IBC, ICBO, BOCA, and NFPA 5000 building codes.
All that means is that these signs meet building regulations.  Not only are these signs in compliance, they also look good.  At SignOutfitters.com you can get these signs with a side mount, ceiling mount, or a wall mount bracket.
These emergency exit signs can be used in both high and low level applications, require no power, are eco-friendly and virtually fail safe.